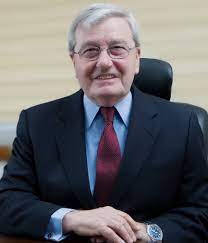 Enterprise Insurance and Enterprise Life Assurance have met the revised minimum capital requirement of ¢50 million for the insurance industry, ahead of the revised timeline.
Speaking at the Enterprise Group's Annual General Meeting, Board Chairman, Trevor Trefgarne said its Nigerian operation will be supported with the required investments in the short-to-medium term to generate long-term shareholder value.
"One key focus for the business will be to ensure our operations in Nigeria start on a strong footing by setting the right foundation, leveraging on our experience in Ghana, while considering the particular consumer demands and need of Nigerians. This operation will be supported with required investments in the short to medium term generate long-term shareholder value."
He added "deployment of the right technology will remain paramount across the group to keep all our operations relevant to the changing needs of our existing and potential customers, taking lessons from the pandemic."
Despite the stock market valuation of not reflecting the fundamental value of Enterprise Group, Mr.  Trefgarne said the board remains firmly committed to the long term value creation of the company for shareholders.
"As shareholders are no doubt aware, the stock market valuation has not for some years reflected the fundamental value of the group. Although this has been a concern your board remains firmly committed to long term value creation for shareholders and will not shirk this responsibility."
Shareholder return and dividend
Meanwhile, shareholders of the bank have approved a dividend of ¢0.062 per share, a 15 percentage point's increase over the previous year.
This is based on the 2020 performance despite the impact of covid-19 on its business.
The group company recorded a net income of ¢847.7 million and profit of ¢146.7 million. However, the weak outturn of the Ghana Stock Exchange impacted its share price which declined by 15.2%, from ¢1.65 per share in 2019 to ¢1.4 per share in 2020.
The group's net assets however grew by 14.6% on account of an increase in investment securities and positive cash flows.
Future planning
The group implemented Management's Strategic Plan for 2020 – 2024 which was put to test as a result of the covid-19 imapct.
However, the Board Chairman said though new business generation was slower than anticipated, the key thrusts and pillars of the strategic plan are all relevant and responsive to the present times.
"It is heartwarming to mention that both our Ghana insurance companies have leadership positions in the industry after the Non-Life business ascended to the number one slot at the end of 2020 with a market share of 13.4% in line with one of our key strategic imperatives".
Mr. Trefgarne added that his outfit will continue to review steps needed to keep the business competitive and profitability.
Three year financial summar
| | | | |
| --- | --- | --- | --- |
|   | 2020   | 2019 | 2018 |
|              Group Net Income |   847,747,000 |                                        714,088,000 |                               607,167,000 |
| Net Investment Income | 141,662,000 | 128,008,000 | 114,478,000 |
| Net Insurance Income | 651,386,000 | 535,870,000 | 380,706,000 |
| Net Benefits and Claims | 374,630,000 | 325,346,000 | 283,573,000 |
| Profit after tax | 146,729,000 | 117,225,000 | 87,949,000 |
| Total Equity and Reserves | 764,386,000 | 666,895,000 | 576,553,000 |
| Total Assets | 1,745,508,000 | 1,499,116,000 | 1,349,344,000 |
| Earnings per share (GH¢) | 0.476 | 0.466 | 0.303 |
| Dividend per share (GH¢) | 0.062 | 0.054 | 0.045 |
| Return on Assets (%) |    9.04                                                    |  8.23 | 7.38 |
| Return on Equity (%) |   13.76 |  15.12 | 11.15 |
|   Share price (¢) | 1.40 |   1.65 |  2.24 |