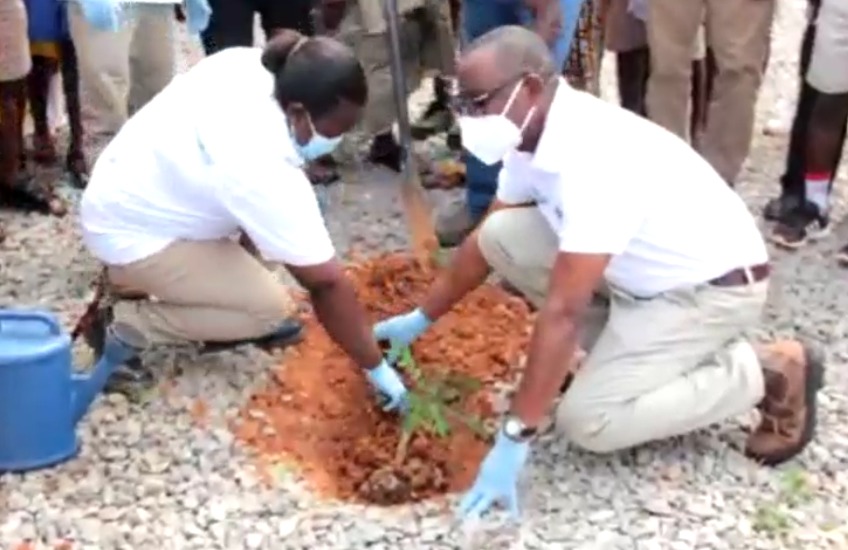 Illegal mining is one of the key drivers of forest depletion in the country.
Some parts of Ghana are riddled with illegal mining activities, carried out by local community members and their foreign partners; causing damage to the environment.
Illegal mining activities have left many forest reserves in the Upper Denkyira West District depleted.
With the aim of restoring Ghana's forest, Perseus Mines is planting 10,000 trees at Ayanfuri in the Central Region.
Rainforests are important hotspots of biodiversity, and valuable ecosystem services.
According to recent study, galamsey-driven deforestation increased from 13,456 hectares to 29,275 hectares between 2015 and 2018.
In 2018, the total extent of forest degradation in protected forest reserves affected by galamsey was about 1058.
The government has made efforts to halt the invasion of thousands of illegal gold mining operations. The effort is also backed by a recent campaign to plant 5 million trees across the country.
Perseus Mines in Ayanfuri is supporting the government to champion the cause of forest restoration.
Speaking to JoyNews, the General Manager of Perseus Mines, Dr Stephen Kofi Ndede said that "we have embrace the government's good initiative and we are collaborating with the two districts to improve on tree planting."
Perseus is donating 10,000 seedlings from their environmental nursery to carry out the rehabilitation program to support the Green Ghana Project, he added.
Communities like Diaso, Dominase, New Obuasi, Nkonya and some schools are among the ones that will benefit from this project.
Health, Safety and Environmental Manager of the firm, Phanuel Ssckey, appealed to residents to join and give their best to the environment.
He said that "this initiative is a laudable idea that, PMDL supports and we have encouraged our employees and contractors to be part of it. Planting of trees in our communities, schools and near our water bodies will provide the needed shade. It will combat climate change and prevent water pollution in the streams and the rivers around it."
Mr. Ssckey says the goal will succeed if everyone play their part.
Abuapanin of Ayanfuri Traditional area, Nana Akwasi Kwarteng also called on the residents to support the initiative and protect the trees to grow.
Aside from restoring forest, a simple view of trees can help reduce stress and anxiety, and improve general well-being of a population.