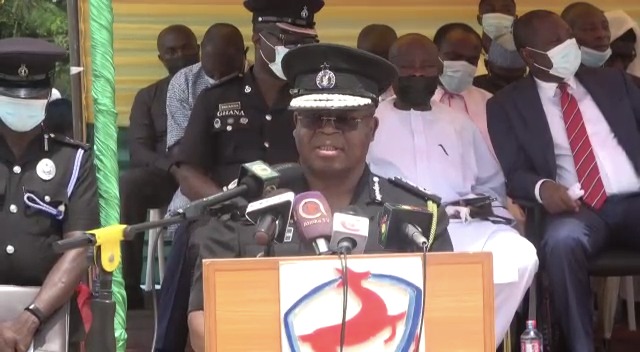 The Inspector General of Police, James Oppong-Boanuh, is urging the youth to desist from attacking the police if they disagree with their actions.
He wants them to channel their grievances to community elders and the hierarchy of the police to get matters resolved instead of resorting to violence against the officers.
Speaking at the commissioning of a new Winneba District Police Command in the Central Region, he said his administration was determined to maintain law and order in the country.
The commissioning of the new Winneba District Police Command brings to three the number of facilities of the Ghana Police Service championed by the Efutu MP, Alexander Afenyo Markin, in his constituency.
The caution by the IGP was followed by an assurance that criminals would not go scot-free under his watch.
"Please see the police officers who are coming here as your own relatives. If you are not happy with something they do, do not take the law into your hands. Desist from attacking them," he stressed.
James Oppong-Boanuh further indicated the police services was determined, more than ever, to maintain law and order in the country.
He explained policing had grown in leaps and bounds in recent years owing to the sophisticated nature of crimes and urged the public to assist the police with information that would lead to the suspects being arrested and prosecuted.
He cautioned the police officers to respect and protect human dignity in much the same way they would want their dignity and rights to be protected and respected.
Central Regional Police commander, DCOP Habiba Twumasi Sarpong called for support for the Ghana police service saying combating crime was a shared responsibility.
The police administration thanked Alexander Afenyo Markin, the Efutu MP for his incessant support for his community.
"This brings to three the number of facilities he- Alex Afenyo Markin- has built for us. The 4th one is about 95 % complete," he added.
The IGP made an appeal to MPs and other members of the communities to follow the example of Mr. Afenyo Markin.