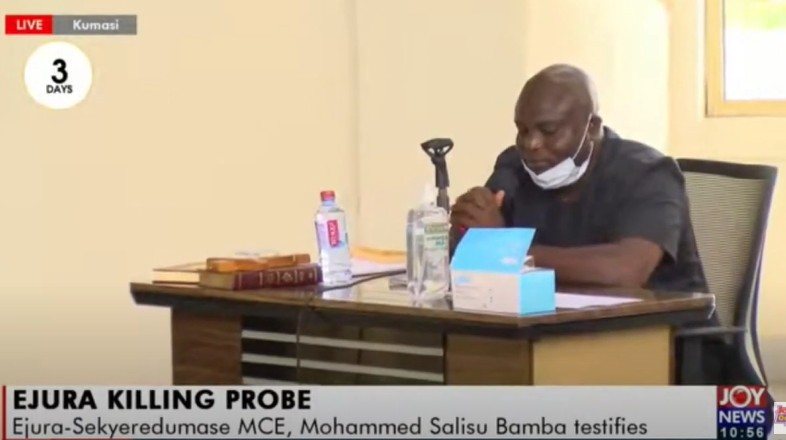 The Municipal Chief Executive (MCE) of Ejura Sekyedumase says his presence at Ejura on Tuesday, June 29, during the protests might have caused more chaos than the one recorded.
According to Mohammed Salisu Bamba, he was asked to stay out of Ejura for security reasons during the disturbances that led to the death of two persons and left some others injured.
Speaking at the public probe aimed at investigating the Ejura protest, he said "I got to Mampong when I had a call that I shouldn't come to Ejura for security reasons. Actually looking at how the whole environment was polarised it could have been worse."
"When the incident happened I was the first person they were trying to link the suspects to, that was number one. Two, the police themselves instigated the youth against the police," he added.
Mr Bamba was responding to questions posed by a three-member committee investigating the Ejura happenings, on the role his absence played in the protests.
The MCE told the Committee that he, however, returned to Ejura a day after the protest.
He explained that he did not want to go against the advice of the security officers he was working with.
"If I don't listen when something happens, they would say 'we advised and he didn't listen to that advice," Mr Bamba said.
A three-member committee has been set up after President Akufo-Addo gave the Interior Minister, Ambrose Dery, 10 days to provide a detailed report on the death and injury of some residents in Ejura.
The deceased met their untimely death while demonstrating against the murder of their colleague, Ibrahim Mohammed, also known as Kaaka, which had occurred a few days before the disturbance.
Meanwhile, the MCE refuted speculations that the two suspects arrested in connection with the murder of Ibrahim Mohammed, are his bodyguards.
Testifying before the three-member committee probing the Ejura incident, he said "no, not at all," when asked whether the two suspects are his bodyguards.
He added that "the two gentlemen are our party members and they are our polling station executives, and as Chief Executive and Parliamentary candidate, definitely I will have a relation with all my party people on the ground."
According to him, "some faceless individuals" are behind the allegation, trying to use the death of Kaaka for their parochial interests.