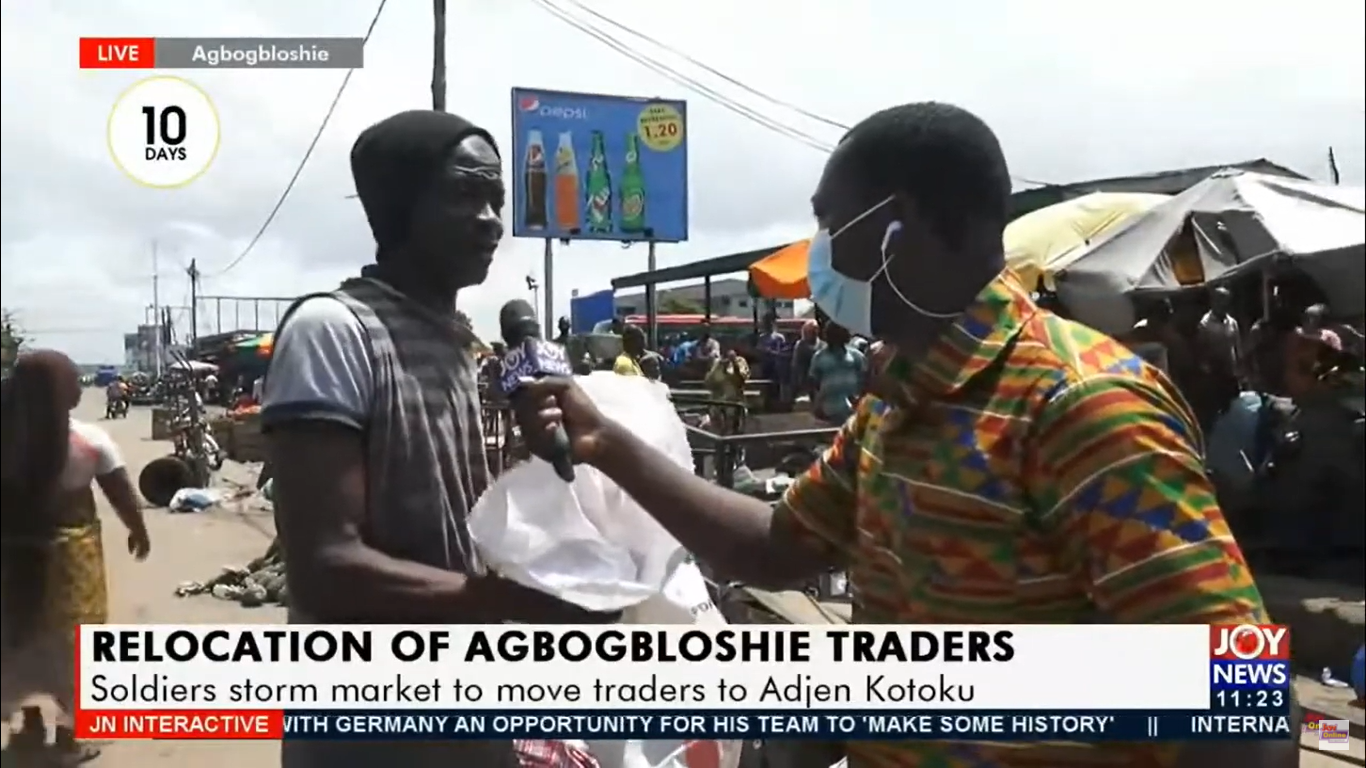 Some traders at Agbogbloshie Market have expressed disappointment at the firing of tear gas and warning shots by the joint security task force dispatched to quell a rampage in the area on Thursday morning.
Speaking to JoyNews, some of the traders said they were disappointed in the methodology adopted by the security personnel indicating that, it could have turned deadly.
For others, the action of the police has left them scared and stranded.
They, therefore, called on government to intervene and ask the police not to evacuate them since the market is the only place they can make ends meet.
"Firing tear gas was a huge mistake on the part of the police. This is a busy place, they could have hurt someone with that and the gas has health implications. If they [police] want everything to be peaceful, they should relate with us peacefully," a trader told JoyNews.
Another added, "this rubber bullet landed right next to me. I could have died. [President] Akufo-Addo, we are pleading with you to talk to the police. Don't disappoint us because we voted for you."
"What did the police seek to achieve by firing the tear gas? Did they want to kill us?" A trader quizzed.
But Operation's Commander, DSP Kwesi Ofori, told JoyNews that the crowd-controlling strategies implemented were necessitated by some "criminal elements" who tried to disrupt normal business in the area.
He said the joint security task force was sent to the Market to ensure peace and protect the traders and their belongings from thieves.
"The market women have fully cooperated and they are not even here currently, because they are even setting up at Adjen Kotoku. But it is some criminal elements that want to take advantage of the situation to mar the operation," he told JoyNews' Manuel Koranteng.
Today is the deadline Henry Quartey, the Greater Accra Regional Minister, gave onion traders to vacate the Agbogbloshie Market after over 20 years of plying their trade there.
The onion sellers are to move from Agbogbloshie Market to the Adjen Kotoku Market Square.
This forms part of the Minister's decongestion exercise dubbed 'Let's Make Accra Work.'
The traders have protested the directive, saying the new place is too small, thus can't accommodate all of them.
Some aggrieved persons, according to reports, destroyed an office of the New Patriotic Party (NPP) located in the area and burnt lorry tyres in protest. The joint security task force then moved in.